Commencing in January 2017, Google's Chrome browser will start marking any web page that requires a password or credit card form field as insecure if the page is not using HTTPS.





Eventually All sites without HTTPS will be flagged as not secure which could lead to a loss in internet traffic from the search engine result pages. (SERPS)





What will happen if without HTTPS?
This could be a very problematic change for website operators, but it will likely prove quite significant - particularly when it comes to converting users (keeping users on a non secure site for any extended period of time will prove very difficult which will produce a high increase to website bounce rates).
Google also reiterated their plan to eventually mark all non-HTTPS as not secure, even on HTTP pages viewed in Incognito mode, although they haven't yet given a timeline on when this will happen. If your website is not yet using HTTPS, now would be the time to get that process started.
HTTPS is very fast to load a website compared to HTTP
This isn't an entirely new development, but in recent times a combination of both improvements to speed in HTTP implementations and a greater awareness of the performance upsides have helped move things along.
For example, sites like istlsfastyet.com have been very good at setting record straight as has the emergence of other HTTPS upsides such as Brotli compression. And then there's this: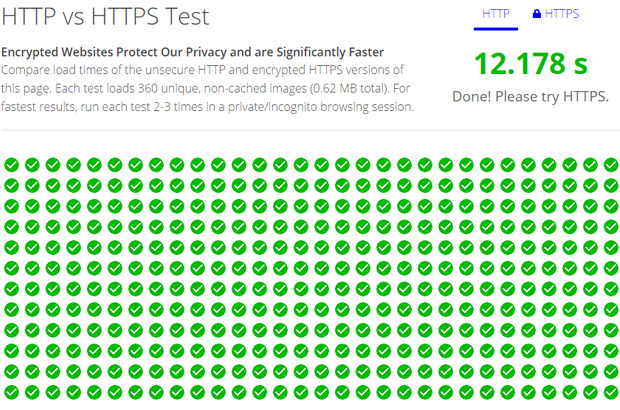 Summary
Now is the time to move to HTTPS, not because it's the right thing to do, but because there's also increasing pressure to do secure your website data. Access to new and faster browsing protocols, get rid of browser warnings and protect your customers from every nasty thing, are all really good reasons.
Protect your customers from hackers
80% faster than http websites
Secure all email & transaction data
SEO page ranking boost from Google
Page speed boost for all mobile traffic
Of course you could just wait for the browsers to start flagging your site as not being served over HTTPS as "non-secure" plus an unwanted visual indicator to current site users, that should do it.
Need Help? Contact chris.brookes@positivelyonline.co.uk